IMS and Microwave Week (IMS 2021) is the first major in-person gathering of RF, Microwave and millimeter wave experts in over a year. APITech will showcase multiple new products at IMS and provide hands on demonstrations of new technologies already launched in 2021.

The focus is on mmWave applications, commercial wireless, New Space, 5G, and signal protection. APITech's newest products support each of these applications: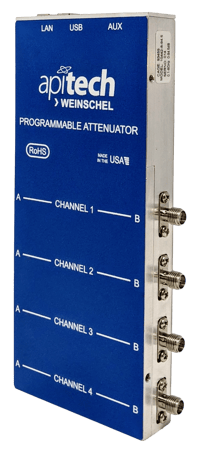 5G and Wi-Fi 6E Testing and Simulation
Multipath Emulator:

an integrated programmable subsystem that enables device makers to test the functionality of Wi-Fi devices in a true multipath environment. Ideal for MU-MIMO conductive testing. Part of a series of products supporting 5G and Wi-Fi 6E testing and simulation, and the APITech commercial wireless value chain.

8-channel programmable attenuator

: Low form-factor, 8-channel programmable attenuator for wireless testing. 0.1 – 8 GHz. 31.5dB and 97.5dB.

4-channel programmable attenuator: ideal for Automated Test Equipment (ATE). APITech Weinschel brand 4 Channel Programmable Attenuators are 50 ohm bidirectional units that operate over the 0.1 to 8 GHz frequency range. This newest model offers an attenuation range of 0 to 31.5 dB in 0.5 dB step size. These units can be controlled using USB & Ethernet interfaces.
mmWave Applications
40 GHz Powerfilm chip attenuator:

Surface mount chip attenuator that supports mmWave applications (to 40GHz). The Powerfilm team launched the 30GHz chip attenuator earlier this year.
EMI/EMC
5G D-Sub Connector

: APITech's 5G D-Sub filtered connectors are capable of 70 dB from 1 GHz to 6 GHz in a D-sub connector adapter form-factor. These connectors are ideal for test enclosures for high-frequency testing, including 5G cellular hardware.

Multiline Surface Mount Array

: provides exceptional EMI protection for signal and power lines in an integrated surface mount package by providing filtered signal lines between system modules.

Power Connector

: a power filter in a circular connector package that includes integrated common mode and differential mode EMI filtering. These connectors can replace traditional larger EMI box filters or power entry filters with similar performance.



Power:
DC SmartStart II

: APITech's next-generation DC SMARTStart II supports a uniquely flexible overload and short circuit protection, an enhanced NIC with new security protocols, and high-power density with up to 10 kW capacity in a 1U rack power-mount distribution package.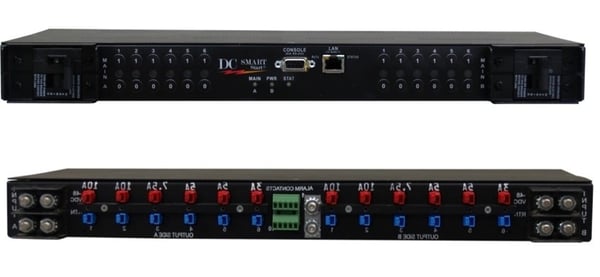 New Space
W Band LNA

: W-band low noise amplifier for space applications, 5G/6G, and W-Band radar.

This is a unique solution utilizing GMIC (Glass Microwave Integrated Circuit) as an enabling technology.

Opto-Fire

: Quad Transceiver with up to 28Gbps data transfer rates per Tx & Rx channel.

The Opto-Fire micro-optical transceiver can be incorporated to improve critical data communication systems in space applications where data transfer reliability is critical. Plus, can significantly reduce the size and weight requirements in airborne, naval, and renewable energy applications, with data transfer speeds of 10Gbps, 28Gbps, and the next generation version now in development, which will handle 56Gbps.
Extreme Temperatures
Cryo attenuators: Optimized for cryogenic refrigeration systems used in quantum computing installations, APITech's proprietary thin-film cryo attenuators are available in frequency ranges from DC to 40 GHz, and with 2.92mm, SMA, and SMPM connectors.

Radar
10 W and 20 W 8GHz Powerfilm chip attenuator

: Balance of high-frequency, high-power functionality in a small package. Target markets include E/W and T/R modules, active and phased-array radars.
APITech combines engineering expertise, innovation, and manufacturing excellence to enable mission-critical solutions. Our high-reliability components and technologies provide the foundation for next-generation communications, computing, and the commercialization of space. Every day, our products are used by the military and government, in space, and for the commercial, aerospace, security, medical, industrial, and communications industries. Through proven experience and innovation,
If you're attending IMS 2021, stop by our Booth #1641 for a hands-on demonstration of these and other technologies. Contact Us today to speak with an engineer.