5G and Wi-Fi 6E represent the biggest opportunity in a generation. APITech's Butler Matrix will help bring your device to market on time, on budget, and deliver best-in-class performance.
A butler matrix simulates a beamforming network for testing, to help you mission-proof the rollout of your Wi-Fi devices and services.
From Wikipedia: "The Butler matrix feeds power to the elements with a progressive phase difference between elements such that the beam of radio transmission is in the desired direction. The beam direction is controlled by switching power to the desired beam more."
A butler matrix is comprised of hybrid couplers and phase shifters and is typically used (such as in a router) to keep the beams pointing toward the users. It has input ports, typically 4, 8, or 16, to which power is applied, and output ports, also 4, 8, or 16, to which antennal elements are connected.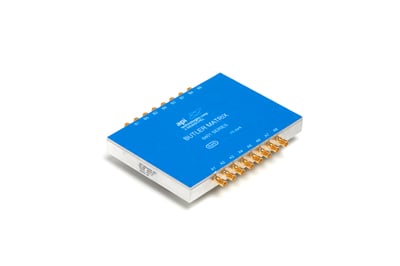 Used in testing, benefits of the Butler Matrix include:
Replaces your expensive over-the-air testing approach

Perform MIMO testing in a conducted environment

Efficient size for ease of test bed integration

Multipath simulation and performance evaluation
Customer Example
APITech's line of Butler Matrices supports the latest 5G and Wi-Fi 6E standards, MIMO testing, wireless link simulation, and antenna beamforming. You will find our Butler Matrices used in the test labs of the world's leading technology companies, and with innovative start-ups. The butler matrix is designed, manufactured, and supported by APITech Weinschel.
Here is a recent example: This Wi-Fi chipset maker used our Butler Matrix to simulate real-world scenarios between Wi-Fi access points and handsets. They were able to combine and condition multiple signals coming into and out of the access point (router) from multiple devices.
The result?
Superior chip hardware and improved delivery of firmware updates to their customers. In addition, they were able to replace their costly over the air testing, saving them time, saving on costs, and helping them to leap the competition.
Massive MIMO Test Applications
You can also use our Butler Matrix for fast prototyping of network infrastructure and devices, for MIMO antenna arrays, and for testing new wireless network features.
Fast prototyping network infrastructure or devices

MIMO antenna arrays

Network Support for direction finding apps

Works with uplink and downlink frequencies
For today's Massive MIMO test applications, the butler matrix is used as a multi-input combining network, introducing phase shifts and delays of the input signals, and simulating real-life propagation delays at the outputs. Your testing is enhanced when butler matrices are combined with APITech's Programmable Attenuators. These provide variations in signal level, amplitude, and timing between the End User Equipment and Access Points. Together, they enable realistic testing and simulation for Wi-Fi chipsets, routers, RF links, 5G smartphones, and IoT sensors, but in a representative, conducted environment.
Military Applications for Butler Matrix
APITech's Butler Matrices are also used in Military applications including interferometer antenna arrays, for direction-finding applications, as well as in targeting and early warning systems.
Interferometer Systems Simulation and Testing

Antenna Array Beam-forming

Harsh environments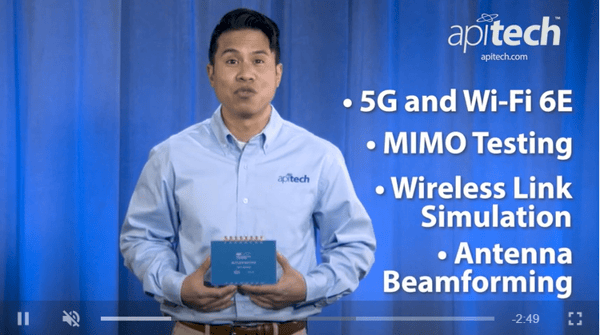 The Industry's Greatest Ever Growth Opportunity
5G and Wi-Fi 6 are driving the industry's greatest-ever growth opportunity:
Streaming videos

Autonomous vehicles

Private networks

Hybrid work

A world of connected sensors
Using APITech's Butler Matrix means you deliver the very best customer experience while meeting stringent Wi-Fi and 5G performance requirements.
Speak to our Product Experts
Test your newest router, smart device, chip set, or wireless links. Make your testing rapid, accurate and automated. The benefits are many:
Decreased test duration

Replaces expensive over-the-air testing approach

Automated data collection

Eliminate human error

Affordable, automated testing
With APITech's butler matrix, it is game on. Ready to find out more? Speak with our technical experts today.