In this modern and fast-paced world, security is a top priority. It can protect classified information and facilitates the safe operation of applications applied in various industry sectors. That's not all; we also need to feel safe in our homes, and that's why most countries emphasize the need for border security.
If you take a look at why border security is so crucial, it becomes clear why countries invest so many facilities into keeping their border secure.
The benefit is substantial: well-controlled borders indicate a higher level of security for populations, preventing terrorist risks, controlling trafficking, and unlawful immigration.
There are several ways countries can provide security. Of all the ways, surveillance is particularly challenging, especially when the focus is on the national or local border.
As regards border surveillance, the scope is usually broad. Under such conditions, surveillance technologies ought to be reliable, scalable, and be able to withstand harsh conditions.
However, the surveillance technologies today haven't been up to the par. Most of the current border surveillance systems are not flexible and reliable enough to handle modern border surveillance needs.
Why?
Their technologies are old and outdated and sometimes the systems used are still use analog controls.
Fortunately, new next generation surveillance technologies are springing up. And APITech's Quad Transmit/Receive Module (QTRM) is helping companies to realise these advantages.
APITech's Quad Transmit Receive Module solutions for AESA/E-Scan radar applications offer an innovative solution to system integrators and prime contractors seeking a high performance transmit/receive solution for the development of active antenna array systems and sub-systems.
What Does APITech's Quad Transmit/Receive Module (QTRM) Offer?
Cost-effectiveness
APITech's Quad Transmit/Receive Modules (QTRM) saves you money by eliminating the need for recalibrating and upgrading your border surveillance system. How so?
QTRM adopts its "common module" methodology of upgrading radar solutions.
What is the "common module"?
It's an approach that APITech developed to ease system integration for surveillance using AESA (Active Electronically Scanned Array) Radar. It reduces operational and ownership costs through comprehensive built-in diagnostic and plug-and-play architecture. The factory calibration of each QTRM allows modules to be interchanged regardless of their position within the array.
High Performance
The QTRM offers high-level performances in the development of transmit/receive solutions. It has done so for many AESA applications.
However, it is important to note that QTRM wouldn't be the high-performing smart surveillance tool without the following features: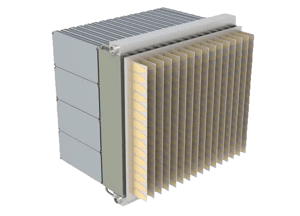 Standard factory calibrated modules

Smart radar configurations

Available in various bands and configurations
Thanks to the features stated above, QTRM also reduces integration time and enables arrays to self-heal during configuration.
In the end, the world needs smart surveillance systems. Check out APITech's Transmit Receive Modules for more information.