Did you know that military and commercial aircraft are likely to be struck by lightning at least once in their lifetime? Due to safety precautions built into the aircraft, the last time lightning brought down a plane was in the 1960's. Airplanes are designed to withstand hundreds of thousands of amperes of electricity, which is considerably more than a lightning strike.
The first line of defense is that airframes are mostly constructed of aluminum. Aluminum is ideal due to its strength, while also being lightweight. It is also an excellent conductor of electricity. When struck, electricity travels into the aluminum shell and out through another point of aluminum on the aircraft.
The other line of defense, and maybe the most important, is the lightning protection engineered into the aircraft that helps to maintain the critical electronic equipment on board, including computer systems and flight instrumentation. APITech's transient survival circular connectors make this protection possible. These connectors provide increased safety, system capacity, and overall efficiency in electronics equipment during the flight.
APITech's transient survival connectors:
Meet standards for RTCA/DO-160 Level 4 (1,500 voltage transient)
Withstand very high voltage surges for airborne equipment
Selective load options with consistent pin-to-pin performance
Provides increased safety, system capacity, and overall consistency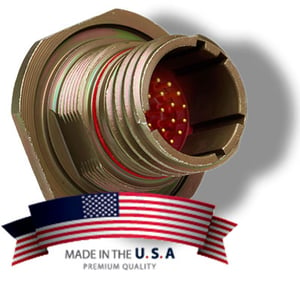 APITech connectors feature a specially formulated potting compound and proprietary potting process to seal filter elements. The potting insulates and protects the capacitive filter element, allowing it to withstand very high voltage surges such as those caused by a lightning strike.
APITech designs and manufactures all components for its circular filtered connectors. From shells and shields to seals and grommets, each component of a custom connector undergoes an extensive assembly and testing process, delivering extremely reliable, high-performance connectors to fit both economic and mechanical needs.
Available in custom and value-added designs, APITech's circular connectors can be specified to meet a variety of size, shape, filtering, or material requirements, including MIL-DTL-38999, MIL-DTL-26482, MIL-DTL-55116, MIL-PRF-15733, and MIL-DTL-83723. Value-added services include adding wires terminated or unterminated to all lines or selected lines, twisted pairs, and labeling of wires for easy placement in a system.
APITech's custom filtered EMI connector offerings are manufactured in the USA. Components including capacitors and shells are manufactured by APITech's facility in State College, PA. We are committed to providing customers with high-quality parts at competitive prices, with the industry's shortest lead times.
For more information about real use cases of transient survival connectors in commercial aircraft, please click below.